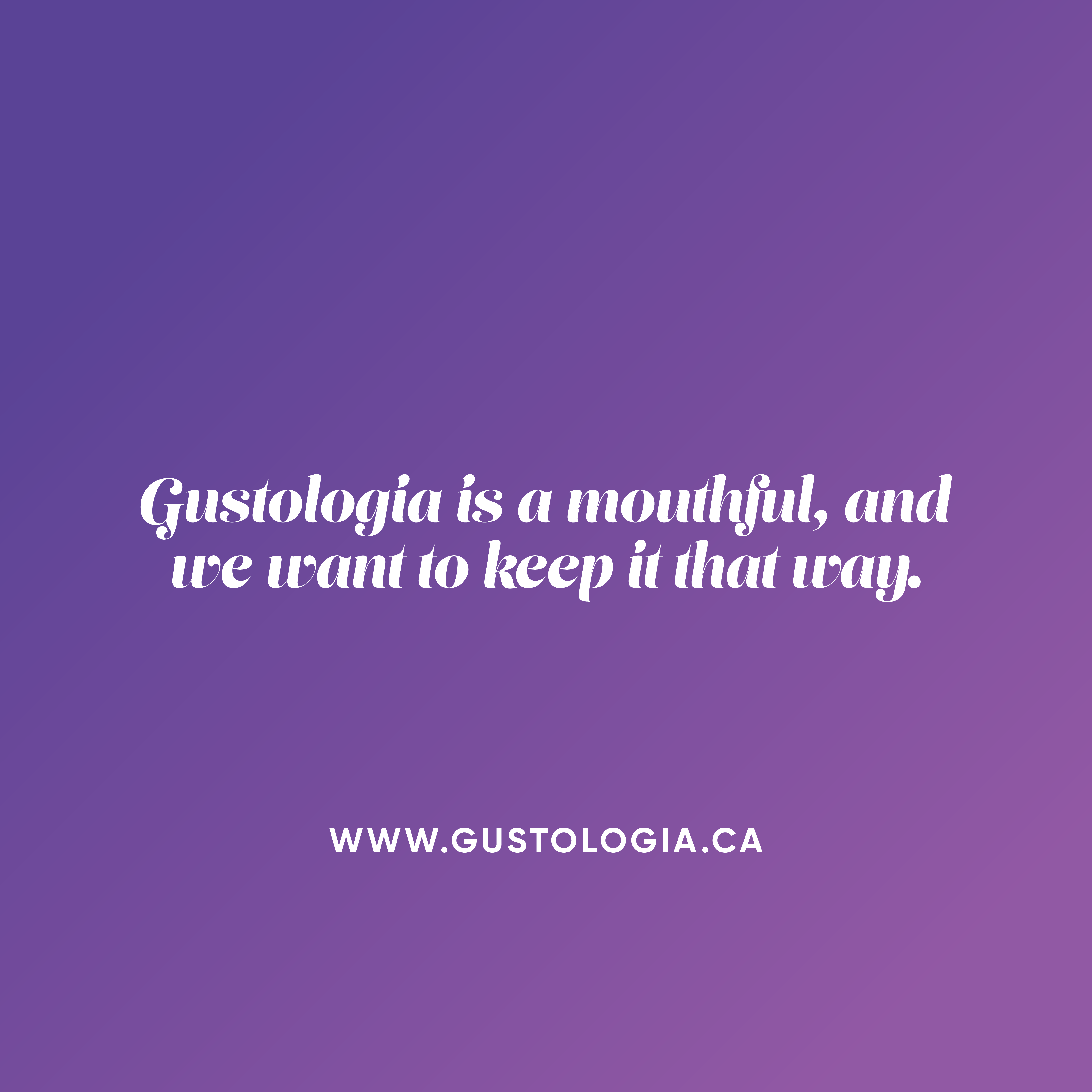 About Gustologia:
Quite literally Gustologia means "THE STUDY OF TASTE". We define it a taste, yes, but also a pleasing flavour, and an energy of enthusiasm.
Our mission is to offer up not just amazing food, but also life experiences, whether it's simply that tremendous moment of tasting something extraordinary, or traveling abroad to find a new food adventure.
Marina Bertozzi will be your Host.
She has been involved in the Italian food scene in Canada for practically her entire life. Growing up in her family was an experience of being surrounded by the best Italian food products that were being imported by her father Adriano, who was well known in the Italian community for his pioneering spirit, as well as his hard work and dedication.
Recently she started her own unique endeavor called Gustologia – THE STUDY OF TASTE – by focusing on some of my memorable childhood foods, and those she feel's passionate about. The mission of Gustologia is to provide a sensory, full circle experience which includes tastings, gifting, events, education, and small group luxury travel. By sharing my knowledge of food, she wishes to include others in her journey and explorations through the world of chocolate, cookies, candy, nuts and other unique specialties.
Illustrating our commitment to the best of the best, Gustologia was the first in Canada to offer an artisanal hand shaped, preservative free sourdough Panettone from Italy flown by air to retail just before the holidays.
THE CHOCOLATE:
Antidote: Super premium superfood chocolate to feed your superpowers!
Our distinctive flavor formula's and slow roasting process maximizes the antioxidants and nutrients found naturally in chocolate. Antidote chocolate bars are a guilt free indulgence! Beautifully wrapped in gift-ready packaging, each bar provides a true Antidote for ALL of your senses.
Antidote is a woman owned company founded in 2010. We are dedicated to creating exquisite treats that are highly enjoyable, nourishing and energizing. All our bars are direct trade, and they are made in small batches from fine, aromatic, Nacional Complex cacao beans sourced in Ecuador.
Mayana: The Best Chocolate you've never heard of
Founded in Chicago by Chef Daniel Herskovic, Mayana's concept is straightforward: take the best chocolate and combine it with unique combinations of foods that everyone adores. Utilizing only the finest ingredients and locally sourced whenever possible, their chocolates are an explosion of chocolate and caramel decadence in every delicious bite!
From their Kitchen Sink bar which is the perfect blend of sweet and salty with peanut butter, pretzel, crispy rice, Fleur De Sel caramel and 66% dark chocolate to their Mayan Spice Bar (dark chocolate ganache, sea salt caramel and tortilla crunch) which is described simply as "Spicy. Rich. Decadent.", your mouth will be watering by the time you are done reading the descriptions, let alone sitting with a chocolate bar in hand ready for the heavenly experience that you know awaits that first delicious bite.
To preorder any merchandise:
Wine and Chocolate Pairing
MAGICIAN Strawberry - Milk choc

2022 Château des Bormettes « Cote et Mer » Rose, cotes de Provence, France
i. Pale coral in colour. Light aromas of juicy raspberry and strawberry are supported by wild Mediterranean herbs like rosemary and lavender caught on a sea breeze. The palate is dry with refreshing acidity cutting through a medium weighted, silky texture. A crisp clean finish makes this a delicious aperitif wine.
HEBE Rose Salt & Lemon · 77%

2021 Reassi « Terre d'Argilla » Manzoni Bianco DOC Colli Euganei, organic
i. Crystal clear lemon in colour with a hint of chartreuse. Planted on volcanic clay, this interesting native grape shows complex aromas of lemon, lime, small white blossoms, fresh almonds and wet stones. On the palate you'll find racy lime juice and a beautiful chalky minerality that reminds you of fine Chablis or Sancerre. Dry, elegant and refreshing – this is a white wine that pairs well with delicate ingredients.
KAKIA Coffee + Cardamom · 73%

2019 Reassi « Tre Frazioni » Rosso DOC Colli Euganei, organic
i. Brilliant cherry red in colour. Also planted to volcanic clay, this Cabernet Sauvignon / Merlot / Cabernet Franc blend from the Euganei hills of Italy is like nothing you've ever tried before. Jumping out of the glass are ripe cherry, plum, and blueberry aromas with hints of sage and earth beginning to emerge. Fine, silky tannins feel soft as satin on your palate and form a really delicate, elegant lighter dry red.
PANAKEIA Lavender + Red Salt · 84%

2019 Mas Llossanes « Au Dolmen » IGP Cotes Catalanes, organic/biodynamic
i. Deep ruby in colour, this wine comes from the foothills of the Pyrenees mountains and showcases bold, wild berry aromas with great concentration and almost an iron-like mineral intensity. Medium bodied on the palate with nicely textured tannins, you'll sense wild raspberries, blackberries and a hint of leather with a long finish. A great example of a well crafted mountain red.
BONUS: Sea salt caramel OR chocolate sable cookie

Something fun to enjoy as you play with all the featured chocolate and wines!