DYMON Wine Cellar is designed to be a place of inspiration and elegance offering high-quality private cellars, an exclusive wine club, members lounge, beautiful tasting rooms, and event space.
Inspired by the love of wine, DYMON's private wine cellars combine innovative features with sophisticated design and perfect cellaring conditions. Just some of what you will enjoy at DYMON Wine Cellar includes:
World-class Storage
DYMON's cellars are available in an array of sizes, from smaller spaces (108 bottles) to full size walk-ins (1,840 bottles) and can be personalized to best fit the needs of individual and corporate members, including long term collectors.
We provide 24/7 access to your collection in addition to 24/7 state-of-the-art security including facial recognition and fingerprint scanning.
Community and Networking
Knowing the joy of wine is best when shared, everyone who uses a cellar benefits from membership in the DYMON Wine Cellar Private Members Club at no additional cost. Members-only benefits include use of the premium lounge, members' networking events and exclusive invitation-only winemakers' dinners and tastings, where you can expand your knowledge and further ignite your passion for wine. You can even invite guests to their private events.
Event Hosting
The artfully designed spacious lounge is the perfect place to celebrate your next special event of up to 40 people. Our private dining room can host up to 20 people, and our dedicated tasting rooms can hold small groups of 8-10. We'll arrange the food and wine to your specifications.
Wineries and Agents
DYMON Wine Cellar will be partnering with several leading wine brands who are interested in engaging with our clientele. The Cellar features a fifty-foot Wine Display Wall, which is available to wineries and wine agents to prominently display their wines that are available for purchase.
Location
Conveniently located near across from IKEA near the QEW and 427 intersection, it's the ideal location to close your next business deal that's outside the busy core and includes complimentary free parking.
Intrigued to learn more? Interested in becoming a founding wine member? Please contact DYMON Wine Cellar at winecellar@dymon.ca or fill out the form below.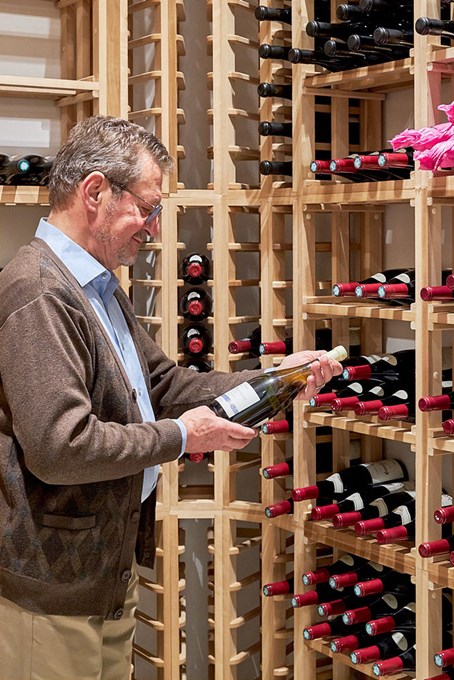 Get in touch with us
Dati di contatto
DYMON Wine Cellar
1460 The Queensway, Etobicoke, Ontario, Canada M8Z 1S4
Il DYMON Wine Cellar team
Oenophiles